Ideal for:
People who often get herpes!
Strengthening the immune system!
Vegetarians!
The composition of collagen!
It stands out because each tablet contains 500 mg of the free form of the amino acid and thus is more easily assimilated by the body.
Daily dosage: 1-3 tablets to be swallowed daily with meals
Packaging: 100 tablets of maximum absorption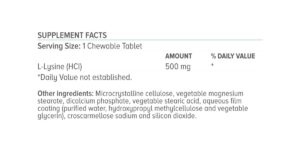 Product notified to the E.O.F. 13287 14/02/2017 *
Product notified to the E.O.F. 13287 14/2/2017. The notification number to the E.O.F. is not a marketing authorization from the EOF .. Do not exceed the recommended daily dose. Dietary supplements should not be used as a substitute for a balanced diet. This product is not intended to prevent, treat or cure any human disease. Consult your doctor if you are pregnant, breast-feeding, taking medication or have any health issues. Keep away from young children.